Planting Yellow Sweet Clover Guide What You Need To Know
Yellow Sweet Clover A Green Manure Cover Crop

Yellow sweet clover (Melilotus Officinalis), also known as yellow melilot, ribbed melilot, and common melilot, the plant is a biennial broadleaf member of the legume family and originates from Europe and Asia. It was brought to the U.S around the late 1600s.
It gets planted to enhance soils, acts as a winter hardy cover crop, and is sometimes used as a forage crop providing livestock food.
They adapt well to different soil conditions as long as the ground has good drainage.
The fact that it will survive over one winter and begin to grow again in the spring makes it work great as a cover crop to reduce soil erosion from winter. It is also popular with pollinators like bees.
One fundamental problem is that it does contain the toxin coumarin. When it gets heated or is added to a hay pile that is still damp and mold forms releasing, converting it into dicoumarol. This will reduce an animal's blood clotting ability and, in high amounts, can be lethal.
What Does Yellow Sweet Clover Look Like
how to identify yellow sweet clover
It looks very similar to white sweet clover with the obvious color difference. For a better description, read below.
Leaves: Each stalk will have a group of 3 leaves about one inch long, with leaflets about 1 inch long and .25 to .5 inches in width. Around the edges of the leaf are toothed edges with a round tip and short slender stalk.

Stems: The stems are primarily hairless and green with slight tinges of red on them.
Flower: The flowers on the sweet clover are clustered on a central stem, with each flower attached by short equal stocks equal distance along the central stem.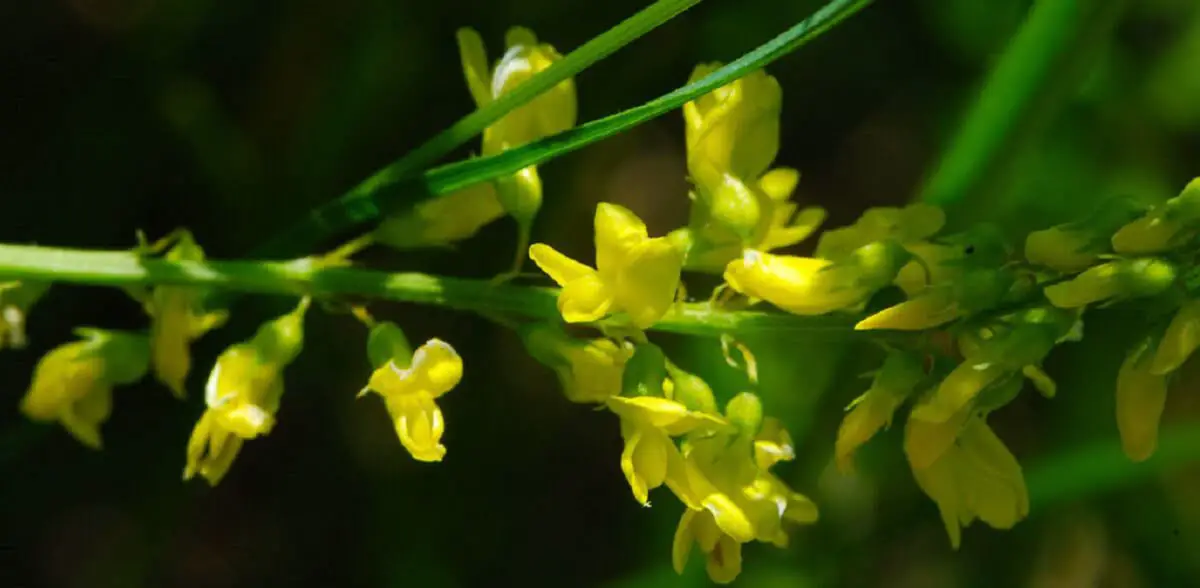 The individual flowers are around a quarter inch long has five parts in the typical pea family shape.
Yellow Sweet Clover Root System
Yellow clover has a widely branched taproots system that will deeply penetrate subsoil. This will allow it to bring up nutrients higher in the soil, making them available to shallow rooting plants.
This deep rooting makes them really good at breaking up overly compacted soils.
The roots will reach their maximum depth (up to 5 feet) when coming out of dormancy in early spring. As the second growing season progresses, the roots will actually start getting smaller through the second season.
Is Yellow Sweet Clover an Annual or Perennial
Yellow sweet clover is a true biennial with a 2-year life cycle that will survive over one winter.
It will not bloom during its first year, though. The second year is when the yellow clover will bloom, and at that point, it will create seeds, and then the plant will die.
Do not expect much growth above ground in the first year. The plant mainly focuses on establishing a vast and deep root system.
The second year is when we will see the growth perform well above ground.[1]
Yellow Sweet Clover Growth Stages
1) Germination
2) Seminal Taprooted Stage
3) Fragmentation of the Taprooted Plant
4) Clonal Growth Stage
5) Flowering
Yellow Sweet Clover Germination Time
On average, it will take our clover 7 to 14 days to germinate under optimal conditions.
The temperature needs to be between 40 °F (5 °C) to 68 °F (20 °C) for optimum growth, and their growth is severely reduced above 86 °F (30 °C).
If you live somewhere with freezing weather and want to plant them near the end of the season, they need to get planted about 45 days before the first frost is expected.
Yellow Sweet Clover Fertilizer Requirments
Like with most legumes, we do not need to add any fertilizer. If we add nitrogen, there is a chance of causing damage to the plant.
A lawncare site actually promotes using a quick-release nitrogen fertilizer as a way to kill off clover on lawns.
The strong point of growing legumes is their ability to take nitrogen from the air ad put it into our soils.
Our sweet clover needs phosphorus and potassium in a medium to high range for maximum growth.
Adding fertilizer with an NPK value of 0-10-10 or 0-20-20 can help us to maximize their growth.
Yellow Sweet Clover Seeding Rate
The seeding rate is 15 pounds per acre for a solid stand.[4]
If you use a grass/legume mixture for a pasture, the recommended rate is 25%.
Planting Yellow Sweet Clover
The paragraph below does not apply if you are growing the clover on a small plot and are willing to manually pull weeds.
Weed Issue If you are tilling or plowing the soil and are worried about weeds moving in, you need to wait 4 to 6 weeks to allow the weeds to emerge and kill them before planting the clover. Broad-leafed herbicides used to remove weeds will also destroy our clover, so you definitely want to avoid using them.
You may need to prepare the soil with Liming if you live in high acid rain areas or grounds with low soil pH levels.
The Lime will also release a good amount of phosphate and potash from dark forest soils that may allow you to not need the use of any fertilizers.
Now use a spade to help break up the ground and provide better aeration. Use a garden rake to break up the dirt and level your garden plot.
The ground needs to be at a constant temperature of 40F to ensure it is warm enough for the seeds to germinate.
You will plant the clover seeds between an eighth to one-quarter inch deep. We want the clover deep enough to have access to moisture while still allowing them to sprout as quickly as possible.
Water well, ensure your garden plot is entirely soaked, and ensure the soil stays moist until the clover has moved into the vegetative stage.
How Tall Does Yellow Sweet Clover Grow?
In the first year, the plant will grow 1 to 3 feet (30 to 90 cm) tall during its first season of growth.
Yellow clover will grow 3 to 5 feet (90 to 150 cm) tall in the second growing season. Under optimal growing conditions, it can even reach a height of almost 8 feet.[5]
We can add it to our gardens to help prevent weeds from moving in on our garden soil.
Where Does Yellow Sweet Clover Grow
Yellow clover will grow in full sun and partial shade, making it useful with most intercropping systems.
Its growth rate is significantly reduced when it gets planted in partial shade, and you may want to double your seed amount.[7]
Sweetclover performs best in the same soil types as alfalfa. Mainly loam soils with near-neutral pH or any well-draining soil type.
Is Yellow Sweet Clover a Good Cover Crop
They will help to minimize soil erosion in our garden, especially over the winter.
Their fast germination and high survival rates in cooler damp areas provide multiple benefits to our soils, like keeping essential nutrients in place.
It is considered one of the best legumes for improving multiple aspects of our soil.
Its deep taproot and immense root growth penetrate subsoil bringing nutrients higher for use by other plants.
When the plant dies, the large roots quickly get broken down and converted to organic matter.
It is one of the best at converting nitrogen in the air to our soil, especially at the end of the first growing season.[5]
What to do With Yellow Sweet Clover in the Spring
There are 2 options we can take the first is to allow the clover to go through bloom and finish over the season.
Our second option is to allow the clover to come out of being dormant in spring and let its vegetative growth continue.
The second season of its growth during spring is when it will add the most nitrogen into our soil.
I like to trim it at the beginning of spring and wait until it reaches about one foot (12 inches or 30 cm). Then I will till it into the soil as a source of green manure to further improve my soil.
After tilling it into the soil, we must wait 2 weeks before planting our next crop.
Yellow Sweet Clover Cover Crop Benefits
Protection for our garden soil in winter
Tilling it into your soil as green manure helps improve our soil's fertility.
Are drought tolerant
Good ability to scavenge residual soil Nitrogen
Creates large amounts of organic matter above ground in the second season.
Like other cover crops, it mixes well with other plants.
Grows well in most soil types.
A deep root system allows for more organic matter in clay soils, improving the soil's tilth.
Planting Clover to Help The Bees
Summary
Yellow sweet clover is a winter hardy cover crop that allows us to protect our soils over the winter season.
It will improve our soil's organic material and increase its nitrogen content.
After the second year, we can till the plant into our soil as a source of green manure to further increase the quality of our grounds.
Similar Articles
Crimson Clover Cover Crop Green Manure Guide
Planting White Clover
Planting Alsike Clover
Planting Winter Wheat
Planting Forage Radish Cover Crop
---
[1]https://extension.sdstate.edu/yellow-sweet-clover-information-and-management
[2]https://www.naturesseed.com/pasture-seed/individual-pasture-species/yellow-sweet-clover
[3]https://www.gov.mb.ca/agriculture/crops/crop-management/forages/sweet-clover-seed-production.html
[4]https://smithseed.com/sites/default/files/documents/Alsike%20clover%20-%20USDA%20brochure.pdf
[5]https://www.sare.org/publications/managing-cover-crops-profitably/legume-cover-crops/sweet-clovers/
[6]https://www.gardeningknowhow.com/plant-problems/weeds/controlling-yellow-sweetclover.htm
[7]https://www.outsidepride.com/seed/clover-seed/Clover-Seed-Planting-Instructions/
[8]https://www.minnesotawildflowers.info/flower/yellow-sweet-clover